Home : : Message From Chairman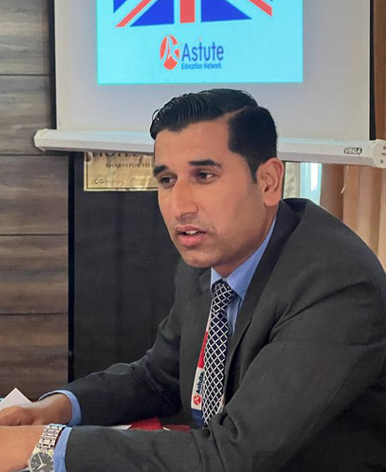 First of all I would like to convey my sweet regards to all of team member, student and colleges and universities abroad. Since two years we are here, and we are serving our student who are willing to setup their career abroad. As we know that there are numerous educational consultancies in the market and they are doing their job in different verse. In this competent market its really tough to have a well stand unless and until we will have something new vision, new program and trustable administration. To establish the very good culture of foreign study, to create trustable and renowned global academic session we are here, and happily and proudly we announce that with in this time we are very successful to explore foreign education market. Today every one can trust us very proudly, and also they can be proud of being the part of Astute Education Network.
Today Astute education network is the proper ground of numerous student who wants to explore their career overseas,and its is also the ground for the highly skilled professional who wants to setup their future in beautiful and secure foreign land. We give complete assistance to the student as well as professional who wants to start their career in the foreign. As we know that a lot of student as well as professional are losing their expensive assets in the seek better institution and finally we don't have any option and we will be disappointed . life of the candidates are being ruined because of lack of proper counseling too. So we are here to provide you proper and counseling which help to build up your beautiful future and be the leader. We give not only educational counseling we also provide career counseling so the candidates can develop audacity of the life.
So ultimately I am waiting to every candidates for warm welcome to Astute Education Network and also want to convey that it is the palace of innovation, place of learning life, and the place of satisfaction. From where you can get everything, whatever service you wish. We will provide you excellent service and make you satisfy, which is will be our ultimate satisfactioin. Come with quries and go with smiley answer. We are here for you, we are here to be your satisfaction, and create a smile on your face.
Thank You
Rabin Timilsian
Executive Director